WWII Cruise Book
This WWII MCB 62 Cruise Book is broken into multiple parts below.
Part 9 of the MCB 62 WWII Cruise Book contains a complete alphabetical list of all the names and home addresses of the Officers and Chief Petty Officers.
Part 10 of the MCB 62 WWII Cruise Book contains a complete alphabetical list of all the names and home addresses of the Enlisted Men.
WWII Cruise Book Part 1
WWII Cruise Book Part 2
WWII Cruise Book Part 3
WWII Cruise Book Part 4
WWII Cruise Book Part 5
WWII Cruise Book Part 6
WWII Cruise Book Part 7
WWII Cruise Book Part 8
WWII Cruise Book Part 9
WWII Cruise Book Part 10
View every other WWII cruisebooks from other Seabee Battalions
---
MCB 62 - WWII Major Events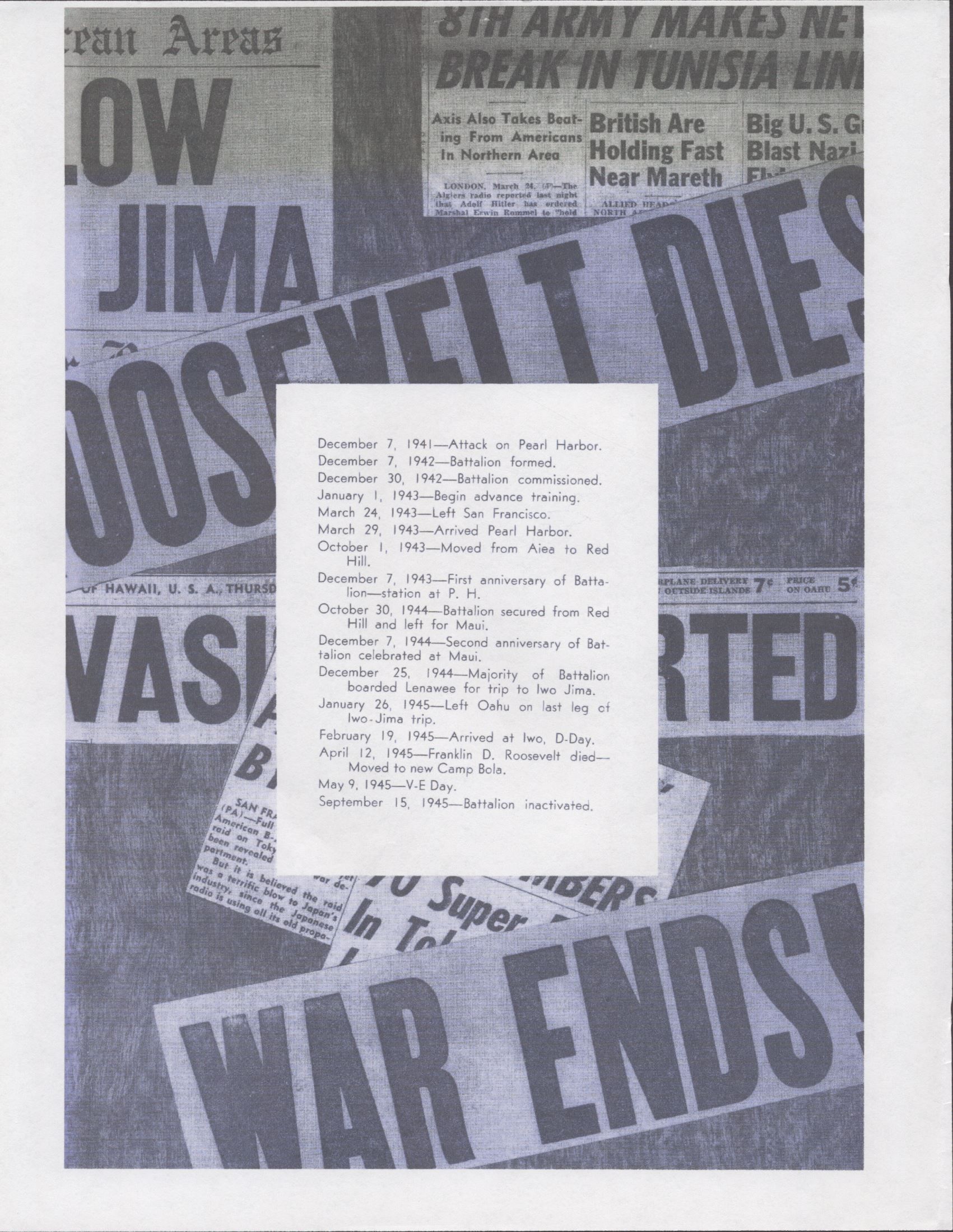 ---
Trent Meredith Letter - August 15, 1945
Trent Meredith, CCM, USNR, was the Editor in Chief of the WWII Cruise Book. He wrote this letter to his wife and kids on V-J Day. Read his biography in our link #21.
---
Life and Times of Norman "Kee" Hahn 1940-1945 in WWII
The Life and Times of Norman Edward "Kee" Hahn in WWII. Born 19 July 1916 and raised in the little city (back then) of Eau Claire, Wisconsin these chapters of his life story begin with his journey to become an airplane pilot in the late 1930s, prior to his heading up north to Canada and joining the Royal Canadian Air Force (RCAF). It turns out that he did not "officially" get his pilot's license in Eau Claire. But, oh-well. After joining the RCAF in 1940 he begins to send letters, photographs and newspaper clippings to his parents, relatives and friends back home detailing his service life, training experiences, the service buddies and families he met and that Canada and England were indeed at War with the German's and the axis powers. .... and that he was a part of it. England and Canada went to war against Germany on 1 September 1939. The United States did not officially enter the War until 8 December 1941 one day after the Japanese bombed Pearl Harbor, Hawaii. The correspondence continues when he was commissioned into the US Navy as a pilot until he was medically discharged in 1945. Then, another life chapter begins.
Four photo albums were used and combined into this segment. His Mothers; Anna Hanson Hahn. His cousin; Alice Hanson. His future wife; Virginia Nitchie and his own personal photos and some photos given to him by his service buddies. Back in those days' folks really did "paste" the photos, letters and envelopes into picture albums, which sadly, partially or totally destroyed whatever was written on the backs of the photos when they were removed from the albums. The letters are original and follow the calendar time line as do the photos. However, some are not dated and their correct date sequence cannot be verified.
Written by Norman E. Hahn Jr, This project begun around November 2011 and completed about October 2018. Many thanks to Granddaughter Taylor Olson for her exceptional patience with research, sequencing, copying, pasting and putting up with her cranky Grandpa.